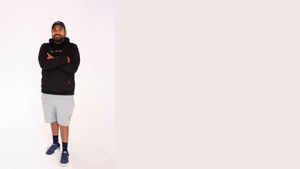 "FOR ME HEALTH IS LOOKING AT THE BIGGEST PICTURE, IT'S PHYSICAL, SPIRITUAL AND EMOTIONAL. LETS START TALKING ABOUT MENTAL HEALTH."
Impactor
Glen Bennell
Where are you from?
My mob is Ballardong from Western Australia.
What are you excited about? What excites me about health and well-being is its not just about maintaining your physical health but more so your mental health because I feel a lot of people look past mental health as they think its not a major issue nor is it a major talking point. I get excited about being able to address it more and help people with gaining more confidence to talk about it.
What does a day in the foundation look like for you? I am excited to be hanging out with the Foundation and supporting the Wellah Weekend project with the EJ Whitten Foundation to create positive spaces for Aboriginal men and their families.

What are you proud of? I met Clothing The Gaps through a course/program I did last year with the Richmond Institute of Sports Leadership where they exposed me to some of the work that Clothing The Gaps do and who they are as a business. From then on, I was always intrigued about the work and thankfully towards the end of last year a job opportunity arose due to them officially opening a store which resulted in me officially being employed, now I'm stoked to be helping in the Foundation.