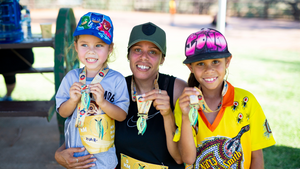 Bourke Aboriginal
Co-operation Health Service
Located in Outback New South Wales on Ngemba and Barkindji Country lies the small town of Bourke. Situated along the beautiful Darling River, 31.5% of the town's population is occupied by mob!
In November 2020, the local Aboriginal Medical Service known as Bourke Aboriginal Corporation Health Service (BACHS) became one of 12 Organisations and Community groups to become part of 'Mob Run This' and deliver their very own Connect to Country Running/Walking event.
Bonnie Smith, a proud Wangkumarra woman and the Health Promotion Officer of BACHS utilised the 'Mob Run This' toolbox and became the driver in engaging and influencing the Community in Bourke to participate and celebrate running and walking together on Ngemba/Barkindji Country.
On Saturday the 21st of November, over 28 Community members comprising of both Aboriginal and non-Indigenous people gathered to partake in the Connect to Country event. The event started at the local wharf where participants were greeted by BACHS staff, supplied their race day bib and reminded to drink plenty of water and use sunscreen to combat the typical hot summer of Bourke with the forecast reaching a top of 38 degrees.
The 5km course stretched along the town's levee bank with ongoing views of the Darling River. Marquees and water stations were situated in various locations. As Community crossed the finish line, they were rewarded with their hard earned medals and a breakfast featuring fresh fruit, yoghurt and museli bars. Aunty Dawn Smith provided the entertainment filling the wharf with her talent of singing and strumming of the guitar.
Community were hot and bothered after slogging it out for 5km in the heat but overall enjoyed the chance to get moving together.
BACH's CEO Leanne closed the event and highlighted the success of seeing mob and others coming together to build on connections and form new ones.